Welcome to the MPOG Quality Improvement Program! On this page you will find more information about the tools we use to help sites improve perioperative care.
To schedule an orientation to our QI Reporting Dashboard, click the button below.
As a participating member of MPOG QI, each site is required to choose a practicing anesthesiologist as their QI representative, formally known as the site 'QI Champion'. The primary role of this champion is to oversee the use of local MPOG data for the implementation of QI projects at their site.  Furthermore, the QI champion serves as a voting member of the MPOG Quality Committee. This committee, along with our subcommittees and their respective champions, govern the activities and direction of the MPOG QI program.
As soon as your dashboard is ready, you will receive an email from one of our QI Coordinators with instructions on how to access the dashboard and begin reviewing measure performance. We recommend selecting and validating 3-10 measures of interest to your department.
Validating the performance scores of these measures will ensure MPOG is accurately representing your institutions practice. Review 5 cases per result per measure (ie passed, flagged, excluded results)
Tip: Case Report tool (login required) and User Guide will assist in pulling down example cases to validate. Add MRNs to this case list, via the 'Batch MRN Lookup Tool'
After the measures you selected have been validated through the dashboard, you are ready to send feedback emails to your providers. There are two approaches to introducing feedback reports to you department
Pilot emails to a smaller group of anesthesia providers prior to sending to the entire department
Send feedback emails to all anesthesia providers on the same start date
Once you have determined a plan to rollout emails, follow the appropriate steps below:
Step 1: Notify the Coordinating Center that your department is ready for the provider feedback emails. Include the following:
The measures you selected
If choosing a pilot, include the number of providers you wish to include
Month the emails should start
This tool allows sites to manage provider information, dashboard access and who receives feedback emails. Enter the first and last names, email addresses, and NPI numbers for providers to be included. Check 'Yes' in the "Send feedback" column
Step 3: Provide Education to your Department: Provide education to the department regarding MPOG, the measures selected, and provider feedback emails. Education materials are available for use- please edit as necessary for your departmental needs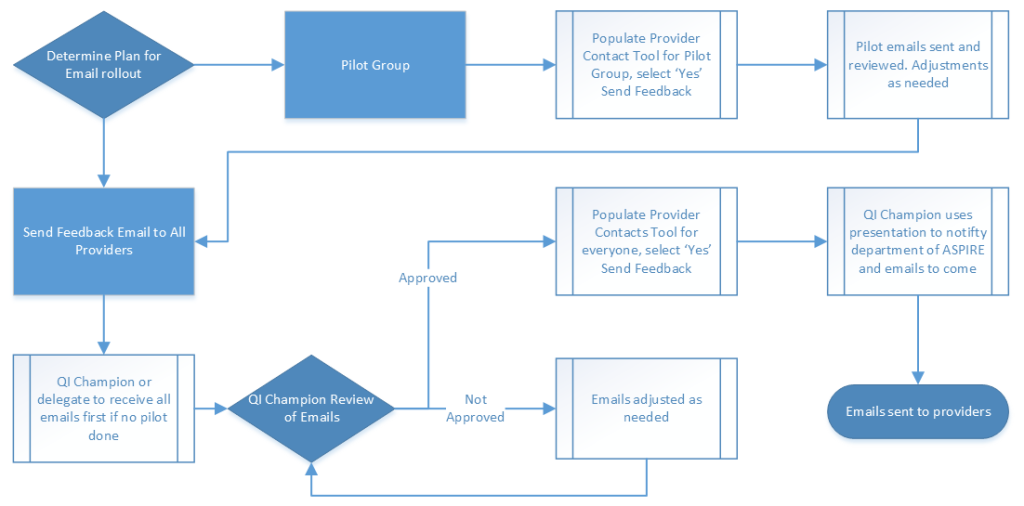 Data Access for QI Projects
Data Direct 2.0 allows users to generate QI focused queries using data submitted to MPOG. This tool can help identify patient, case and institution counts for the cohort you are interested in investigating, as well as allow you download your own institution's data. For access, complete the Authorization Form.
To request assistance with your project, submit a detailed description and a list of requested variables.