Welcome University of Alabama Birmingham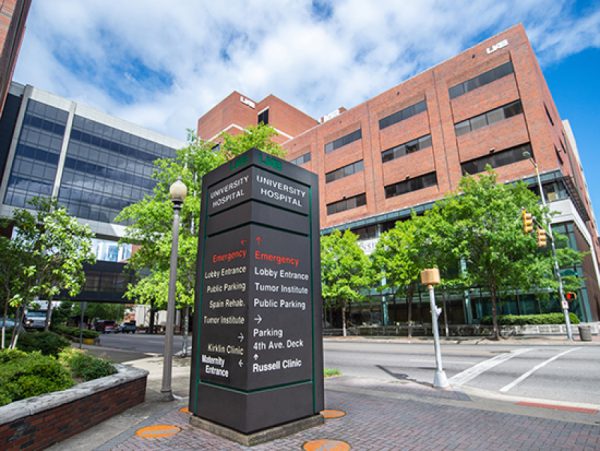 The University of Alabama Birmingham (UAB) Hospital is a major center for clinical research and the home of some of the top medical programs in America. Their faculty physicians, nursing staff, and support personnel are committed to providing world-class care to every patient.
The centerpiece of UAB's clinical enterprise, UAB Hospital is located in Birmingham's Medical District. In the midst of UAB's major research centers and clinics, the 1,157-licensed-bed hospital is among the 20 largest and best equipped in the nation. They provide patients with a complete range of primary and specialty care services and the most up-to-date treatments and innovations in health care. As a major center for clinical research, patients may be offered treatments at UAB Hospital that are unavailable elsewhere in the area.1
The Department of Anesthesiology and Perioperative Medicine at UAB is a recognized leader in the fields of clinical anesthesia, graduate and postgraduate education, and scientific inquiry through basic and translational research. The department employs more than 150 faculty members involved in the delivery of patient care and research activities, more than 90 residents and fellows, and more than 70 staff members.
Clinically, the department is divided into seven divisions based on anesthesiology subspecialty. Anesthetizing sites include operating and procedure room locations within the Birmingham Veterans Administration Medical Center, Callahan Eye Foundation Hospital, The Kirklin Clinic, University Hospital, and UAB Highlands Hospital. The department consistently ranks in the top clinical departments of anesthesiology in funding from the National Institutes of Health. Key areas of research focus include free radical biology, inflammatory diseases, acute lung injury, cardioprotective effects of alcohol, and mechanisms and treatment of pain.2
A special welcome to our partners at the University of Alabama Birmingham:
Chair: Dr. Dan Berkowitz
Quality Champion and PI: Dr. Philip McArdle
IT Champion:: Dr. Dale Parks

1https://www.uabmedicine.org/locations/uab-hospital
2https://www.uab.edu/medicine/anesthesiology/about: