Raising Anesthesiology Diversity and Anti-Racism (RADAR) Launch Event March 31, 2021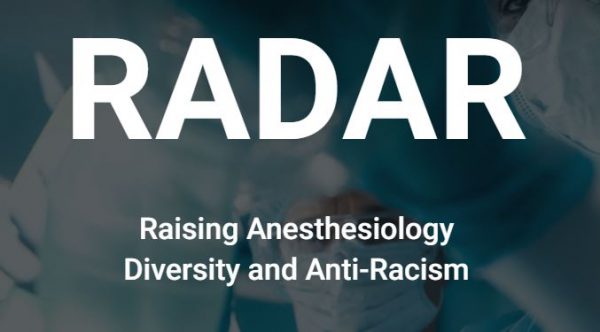 RADAR — Raising Anesthesiology Diversity and Anti-Racism — is a partnership between the anesthesiology departments of the University of Michigan Medical School and Washington University School of Medicine in St. Louis. 
RADAR will focus on: 
Attracting college and medical students to the field of anesthesiology
Providing mentorship and networking opportunities for emerging scholars
Developing resources for department leaders interested in building inclusive and anti-racist communities for learners, faculty, and staff.
You are invited to attend RADAR's virtual launch event Wednesday, March 31, at 7 p.m. EDT. Why We're Here: Increasing Diversity in Anesthesiology will feature a panel discussion on the need for greater diversity within the field. 
Panelists include:
Allison Mitchell, M.D., Associate Program Director for Residency and Assistant Professor, Washington University in St. Louis
Peter Knoester, M.D., Anesthesia Practice Consultants and Grand Rapids African American Health Institute Advisory Council
Nate Hughes, M.D., CA-1, Rutgers University
Brittany Ervin-Sikhondze, M.D., Anesthesiology Intern, University of Michigan
RSVP for the Event: https://radaranesthesia.org/about/events/
Visit the RADAR website: https://radaranesthesia.org/
We hope you will join us in sharing this initiative with attending anesthesiologists, CRNAs, learners, and staff who may be interested in learning more.
If you have questions, or wish to discuss RADAR, please reach out to Dr. Matt Wixson (mwixson@med.umich.edu), Associate Chair for Diversity in the U-M Department of Anesthesiology.