Cardiac sURgery anesthesia Best practices to reduce Acute Kidney Injury (CURB-AKI) RO1 Grant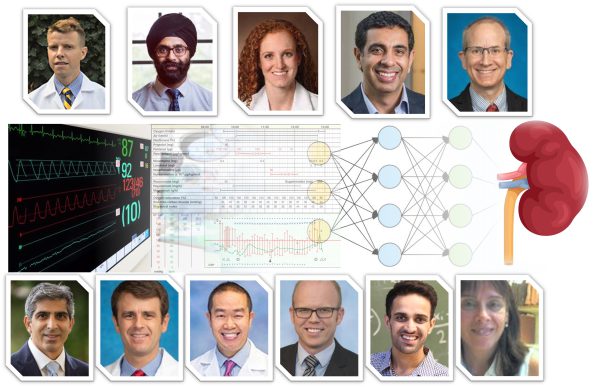 Among over 300,000 patients undergoing cardiac surgery in the US each year, up to one-third develop acute kidney injury (AKI), leading to increased suffering, mortality, and healthcare costs. Despite advances to surgical techniques and patient selection for cardiac surgery, the impact of anesthetic management on the kidneys following surgery remains poorly understood.
The cardiac surgery operating room is the most well-monitored setting in all of healthcare. However, the potential for using the immense amount of health data collected in the operating room to understand and improve outcomes – such as acute kidney injury – remains yet to be fully realized. Data science techniques, capable of handling the tens of thousands of data points collected on every patient undergoing cardiac surgery, offer a promising solution to this problem.
Michael Mathis, MD, a cardiac anesthesiologist and Research Director for the Multicenter Perioperative Outcomes Group (MPOG), and Karandeep Singh, MD, MMSc, a nephrologist, director for the University of Michigan Precision Health Implementation Workgroup, and chair of the Michigan Medicine Clinical Intelligence Committee, are co-principal investigators for the study.
"Despite decades of research and quality improvement, almost all efforts to reduce acute kidney injury after cardiac surgery have been unsuccessful," Mathis said. "A major source of this problem is that past attempts have usually tried standardized, one-size-fits-all approaches. These are unlikely to work in solving complex health problems with multiple contributing factors – as is the case with cardiac surgery-associated acute kidney injury".
The study, funded by the National Institute of Diabetes and Digestive and Kidney Diseases at the NIH, will use cardiac operating room data from over 80,000 patients at over 30 US hospitals participating in MPOG. It will provide novel, deep insights into how anesthesia practice patterns can be individualized to reduce acute kidney injury. The project aims to:
Identify modifiable intraoperative anesthesia processes of care associated with reduced acute kidney injury as candidate treatment strategies;
Estimate the most effective strategy for reducing kidney injury, considering individualized precision health-focused algorithms;
Assess the effect of precision feedback on acute kidney injury rates using an existing MPOG feedback system engaging thousands of anesthesiologists across the US
"There is a unique opportunity to use vast arrays of health data collected in the cardiac surgery operating room, to provide actionable knowledge of care processes influencing acute kidney injury," Mathis says. "Once better understanding these highly nuanced processes, we can inform future clinical trials testing precision-health based approaches to reduce acute kidney injury after cardiac surgery."
Drs. Mathis and Singh are key collaborators within the University of Michigan E-Health & Artificial Intelligence (e-HAIL) program.
In addition to Mathis and Singh, the R01 study team includes: