MPOG Data Used to Investigate Use and Outcomes of Sugammadex Reversal of Neuromuscular Blockade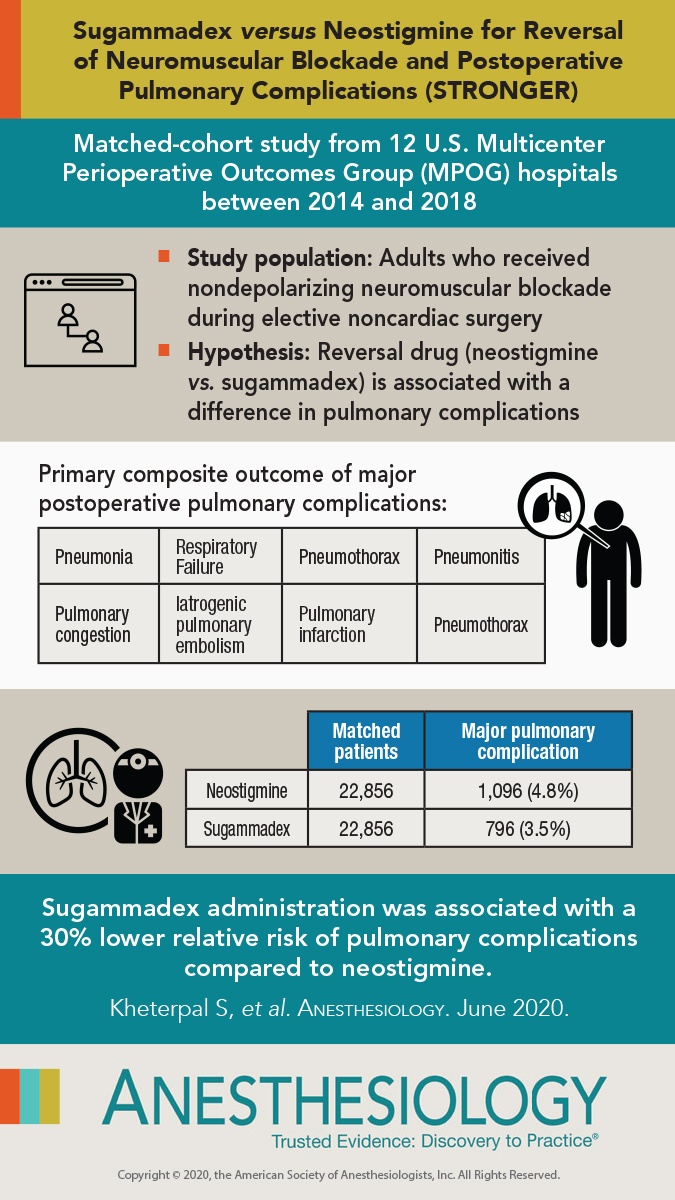 Two recently published articles use MPOG data to define the role sugammadex in the reversal of Neuromuscular blockade.
The first article – the STRONGER study, Dr Kheterpal from the University of Michigan and a group of investigators across 4 MPOG sites examined the use of Sugammadex vs Neostigmine and the impact on patients outcomes in a matched cohort study. The work, published in the June 2020 edition of Anesthesiology, concluded that use of sugammadex was associated with a clinically and statistically significant lower incidence of major pulmonary complications. Study is available via pubmed. 
In the second article, Dr T Dubovoy and colleagues from the University of Michigan examined the usage patterns of sugammadex vs neostigmine between 2014 to 2018. This work, which will appear in a forthcoming issue of Anesthesia and Analgesia, included information from over 900,000 anesthetic encounters across 24 MPOG institutions. 
The authors concluded that, since introduction in late 2015, sugammadex has been broadly adopted and appears to be used preferentially in patients with greater degrees of neuromuscular blockade and higher comorbidity burdens. The study is available via pubmed. 
In both studies, partial funding for data extraction and analysis was provided by Merck Sharp & Dohme Corp., a subsidiary of Merck & Co., Inc., (Kenilworth, New Jersey) the University of Michigan.